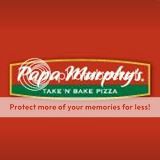 You can win one of (10) $25 gift certificate at this great twitter party. The twitter party is tonight at 8pm EST to 9pm EST. As much fun as fancy dinners can be, sometimes the best date nights are spent at home. Papa Murphy's has the perfect solution for when you're craving some quality time and an extra special meal. Since October is National Pizza Month, we're throwing a party to introduce you to the latest addition to the Papa Murphy's family – the NEW Gourmet Delite line!
Papa Murphy's Gourmet Delite Twitter Party
Date: Today, October 7th
Time: 8-9 p.m. EST
Location: #PapaMurphysMom
Host: @MomTalkRadio (Maria Bailey, Founder of MomSelect)
Featuring grown-up ingredients, the new Papa Murphy's Gourmet Delite line lets you serve an amazing meal from your own oven without spending all day working like a gourmet chef. Sophisticated flavor combinations like Angus Steak and Roasted Garlic Pizza and Spicy Fennel Sausage Pizza are sure to please even the most discerning palettes! As an added bonus, these pizzas are thinner and lighter without losing any of the flavor. Big taste on an artisan thin crust brings delicious sophistication that's less than 250 calories per slice and 25% less fat.
This party is sure to tempt your taste buds and have you running to your nearest Papa Murphy's location. Some lucky attendees will even be having a date night on us, as we'll be giving away ten (10) $25 Papa Murphy's gift cards throughout the party!
You can RSVP HERE