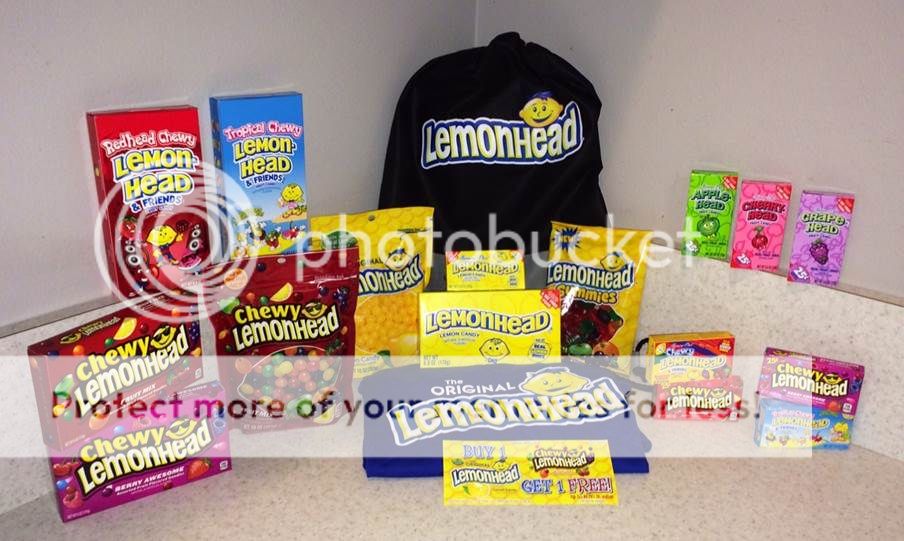 I had a chance to review different Lemonhead Candy products for this review. Our family had not tried many of the new flavors available so we were excited for it to arrive. As you can see from the photo there are many different flavors and types of candy available. My children's eyes were so huge when they saw what came in the mail…They were telling me which ones they wanted to try which of course was all of them. Like there would be any doubt that they would want to try them all, it's candy after all. lol
However, looking at all the boxes and the up coming holidays I had a little more in mind. There is of course the just eating them and they taste great but I wanted to do a little more with them. There are so many great colors and flavors available that I decided that we should have some fun with them as well. So we made some delish treats with them and used them to decorate our treats as well. So as the holidays come you will see our treats that we have made with Lemonheads as well. They are perfect to use on cupcakes, cakes, Rice Krispy treats, and so much more. So they are not only just for curbing your sweet tooth.
The Red hots make a wonderful spiced apple that will make your house smell so good and they taste amazing! I make them in the fall for the family and it's one of my granddaughter's favorites. Every fall I have to make large batches for the kids because they eat them like they are going out of style. The recipe is so easy as well that you won't mind making it for your family even if you can't normally cook very well you could make these easily.
10 baking Apples peeled, cored and cut into slices
1/3 cup Lemonhead Red Hot Chewy Candies
3 Tablespoons water
Large Pan for cooking
After Washing, peeling Coring and cutting the apples up put them in the pan with the rest of the ingredients on a low heat on the stove top. Keep stirring till the red hot candies melt and the apples are soft. Place in bowls and eat. You can top with ice cream if you would like for an extra special treat. These are so good! I make these several times a year for the kids, then we sit and watch a movie together while we eat them. The apples will turn red from the red hot candies and have a heavenly scent to the house as well so your doing double duty. lol Hope your family enjoys them as much as ours does. 🙂
There are so many different options that you could use the Lemonhead candy's for and the flavors are amazing. It's perfect for adding to the treats, it will also surprise your guests as they will think that the candy is sweet, so the sour surprise will be fun to watch. The Grape head would be perfect for Halloween, The many Chewy different colored Lemonheads would be perfect for Turkey feathers on a cake, The Lemonheads would be perfect on a Lemon cupcake put into the swirls of frosting, there are so many great things that you could make with the Lemonhead candies. My mind was whirling with what I wanted to make first.
The kids did eat some of the candies by themselves, and they just loved the different flavors they loved the Gummies, My oldest son is a Lemonhead fan he loves the sour Lemon flavor. My younger princess is a Cherry Lemonhead fan, My other granddaughter was the Tropical Lemonhead fan, they were just loving their movie night with all the goodies. The rest I put up to use with my treats that I want to make.
I also love that the small boxes of candy start as low as $.25 each so they are perfect to adding to treats and not breaking the bank. Lemonheads are available at most stores with the variety that is pictured above so you will not have any problem finding your favorites to make the treats that are in your visions.