I'm sure last week you saw that I had posted about the Disney And Nickelodeon Tweens Stars Live Tour where Dove Cameron "Liv & Maddie" – Liv & Maddie, Ryan McCartan "Diggie" – Liv & Maddie, Calum Worthy "Dez" – Austin & Ally,
Karan Brar "Ravi" – Jessie, Spencer Boldman "Adam" – Lab Rats & "Jackson" – Zapped Movie, Piper Curda "Jasmine" – I Didn't Do It and Noah Munck "Gibby" – iCarly would be putting on a show as well as signing autographs and taking photos with those who attended.
I have two son's that are HUGE Disney and Nickelodeon fans, it was so exciting to be taking them to this event. I of course did NOT tell them about the event until we were leaving to attend it. As a parent you KNOW what will happen if you tell them earlier, it will be "MOM, is it time to go to the show yet???" every minute of every day because they can not contain their excitement. So when I told them to get their coats, hats and gloves on they were grumbling how they didn't want to go anywhere that they wanted to stay home. So I got them ready to go and we were on our way. When I got to the interstate, I informed them that we were going to go see Disney And Nickelodeon Tweens Stars Live Tour nd who they would be seeing at the event. They definitely were excited than! By the time we arrived at the doors of the theater there was no containing their excitement.
When the show started Calum Worthy came running from the back of the Theater and he just had so much energy! Calum was so funny and even more handsome then on the show Austin & Ally, and when my son's saw him come running towards them they were just amazed! I think the reality of them being at the show did not really hit them till they saw Calum. Calum, then introduced the other stars and as they each came running up the aisles you could hear teenage girls screaming throughout the theater, I'm sure there were some boys joining in as well. The stars were hugging and giving high fives as they ran up the aisles and you could see as well as hear all the excitement as the event was under way. I personally had two girls behind me that were screaming at the top of their lungs while I believe their mom had in ear plugs to avoid loss of hearing. lol however, you can not blame them for screaming and coming unglued at the sight of their favorite stars. Even my son's were just beside themselves with the thought of being in the same building as them! My youngest son could not sit still in his seat and kept saying "Mom! Look it's Adam, it's Ravi" and so on down the line. The set up of the theater was perfect everyone had great seats to see the whole event.
The show was amazing! The stars all answered questions that the children/Tweens asked and you could see they were having a blast doing it. It was evident that they were just as excited as the children/Tweens and parents to be there. The energy the stars had was contagious the kids were going nuts the entire show. Even Karan who was losing his voice was giving it his all (I hope your received my tweet and have drank your tea and it helped to get your voice back). You could hear in his voice that it was trying to go in and out, but it never stopped him for even a moment. The stars were having as much fun as the audience. My mom and I had just as much fun as my children at the event. It was something all ages could enjoy. It was really fascinating learning more about the stars from all my son's favorite shows. They are on in our home daily, and even as a parent I never get bored with them UNLESS we have watched the same episodes at least 30 times. lol
Piper Curda "Jasmine" from "I Didn't Do It" and her friend Leo sang several duets together of Tayler Swift songs. Their voices together were fabulous, the kids were signing along with them and just loved having them sing to them. Lou flew in all the way from Texas to sing with Piper for the two day event, the event in Chicago and the next day event in Indiana. Thank you Lou for taking time out of your schedule to WOW us with your voice and sing with Piper who was equally amazing. Cameron and Ryan also sang duets together from Frozen. The two of them were perfect together and had so much energy while singing as well. They had a wonderful time entertaining the audience and it was a great experience being part of the audience during their performances.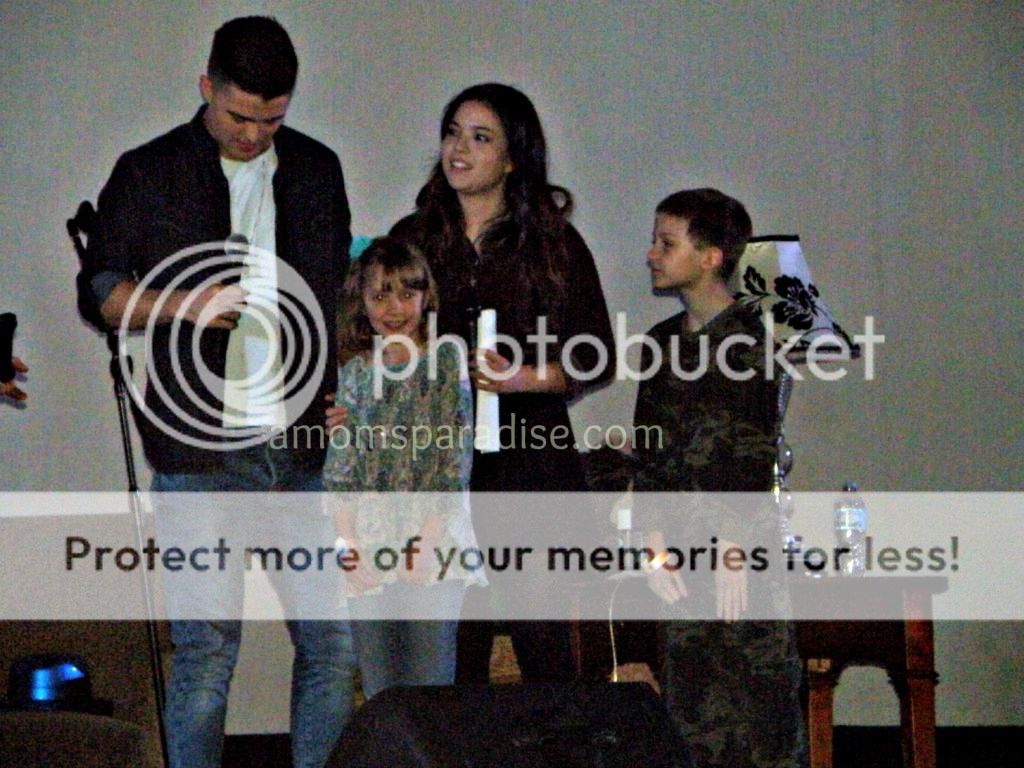 My youngest son Steven (In Camo) was picked by Piper to go up on stage and have some fun with the stars. He was just beside himself that he was picked to go up on stage and play some games. Steven was on Spencer and Pipers team for the games, they were having so much fun, there was so much laughing and teasing. It is definitely something that my son will NEVER forget! He was up on stage with another adorable little girl and she was having just as much fun as him. The whole show was very interactive and meant for the kids/Tweens to have a lot of fun with the stars. It was definitely all of that and more for everyone who attended! Regardless if they went on stage or not you could hear the excitement in all the screams and all the clapping echoing through the theater. It was just a magical event!
When the show was over, everyone left the theater and went out to the lobby to wait for the VIP event for Autographs and Photos. Which everyone took full advantage of to get snacks, Autograph signing materials or T-shirts while waiting to get autographed. When we went into the event it was set up in several areas of the theater, there were seven stars and they each had their own area for the kids to go to so they could get a photo and autograph. They did an amazing job with setting the VIP sections up and everything ran smoothly. It was then announced that there would be no need for pushing and shoving as EVERYONE would get a photo and autograph from each star and that they were not leaving the building till everyone had one. AMAZING! right then and there you could see the relieved faces of the children/tweens knowing that they didn't have to rush. The lines moved along beautifully and were actually fast moving. I was highly impressed with the whole event and how well it had been thought out and put together.
When a star was going to be leaving, they would call out to make sure everyone had a photo and autograph with them. If anyone called out that they hadn't, the star actually went to the line where the Child was that hadn't received it as of yet and took photo's and made sure to sign their T-shirt or poster. I was blown away by how much they all cared about each child or tween that attended the event. It really shined through in this event and I hope that other events will follow in suit and learn from this amazing experience it's all about the fans and making them feel special as well. Kudos to the stars and the event planners, one of the event planners was Calum's Mother, FABULOUS job! If there is another event like this one in our area that is a Disney And Nickelodeon Tweens Stars Live Tour we WILL be attending and readers if you have fans be sure to grab tickets for the show and the VIP tickets you and your children will NOT be disappointed ! If it's anything like this event, you wont be forgetting it anytime soon!