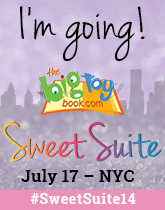 I am so excited to be invited to Blogger Bash 14! I attended the Sweet Suite event last year and it was just amazing. I attended a conference and received an invite, I was really surprised at how well it was put together and all the great information I received while attending. I actually skipped another event that I was suppose to attend to stay longer at Sweet Suite. This year they are having a full event for Blogger Bash 14 in New York. I was one of the lucky Bloggers to receive an invite again, which is such an honor.
In order for me to attend this amazing event, I'm seeking Sponsors. I have come up with some great advertisement packages for both Bloggers and Companies. If my readers would like to donate you can also take part in sending A Mom's Paradise to Blogger Bash. The trip is a great learning experience, I will be bringing back a lot of information to share with all of you. I have heard this year is going to be even more amazing then last years Sweet Suite event. So I can not wait to attend.
New York has been on my bucket list to visit since I first read about Ellis Island when I was young. I have always wanted to visit there. It's one of the amazing American monuments that I have on my list to see. So I am so excited that the event is in New York so that I can cross visiting Ellis Island off my bucket list as well. This is a once in a life time trip, to attend Blogger Bash 14 and see amazing history.
I have all of my sponsorship packages available for you to view, and you can learn more about me on my GoFundMe Page. I would like to thank you all for your support over the past 4 years. I couldn't have the wonderful readers that I have, the passion for my blog, or all the amazing things I have done without all of you.