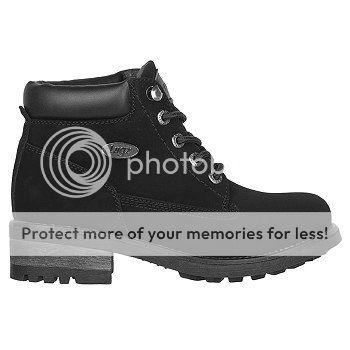 I received a pair of Lugz Women's Black Sophia Boots to review. When they arrived I opened the box, and took them out. I really loved the style of the boots and that they offer a traction outsole, which is really needed with our winters here, we are always getting a lot of snow and it's always slippery outside so the soles are just perfect. Our sidewalks are always slippery so I can walk with them without landing on my butt. They are also lined very well to keep your feet warm from the cold winter as well.
They are a narrow boot, but will look great with jeans or leggings for the cold winter months. Your sure to receive a lot of compliments about them as well as being asked where you purchased them. They are very comfortable on your feet so your going to love wearing them daily. The Lugz Women's Black Sophia Boots would be perfect for year round wear. I plan to make them my go to boots for all year round, they are so comfortable, unlike boots with all the weight to them and you can only wear them for shorter periods of time before your feet are hurting. They would make the perfect gift for someone on your birthday or holiday shopping list as well. They are sure to love the comfort and wear them all the time.
We will also be giving a pair away to one lucky winner!